The SafetySkills LMS allows companies to create and upload custom content, but unfortunately cannot troubleshoot custom content that was created outside of our content team. SafetySkills does not partner with any authoring tools, but we have selected the most common authoring tools and outlined recommended settings for each. We cannot guarantee that these settings will work for your custom course, so we advise that you perform full testing to confirm the custom course is working as intended. We recommend testing proper launch in each browser that your users will access (including mobile devices), testing to ensure proper bookmarking (leaving and coming back to the same spot) and proper completion (the course completes when it should and with the expected values). Please see below for the recommended settings when using Adobe Captivate to create your custom content from an MP4 or JPEG file.
To create a custom course from an MP4 or JPEG file, regardless of your quiz preferences, you will need to begin by selecting "Responsive Project" from the start menu.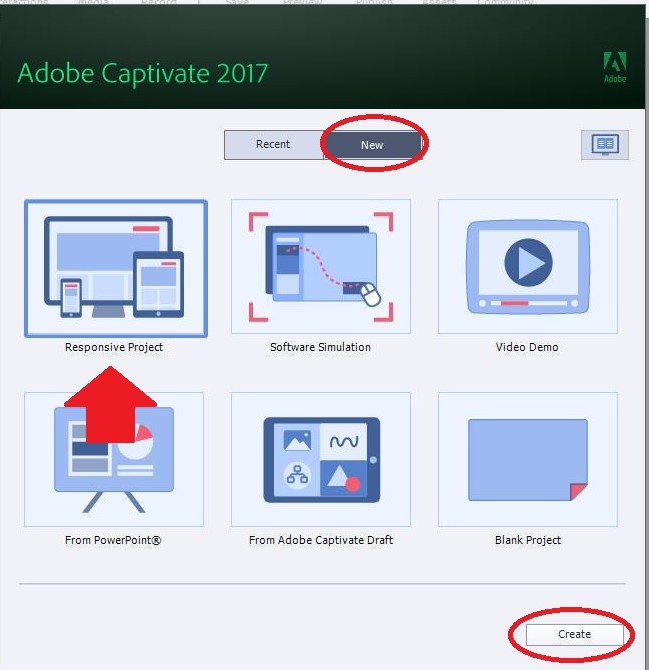 From the menu on the right, select "Library," and then "Import." From here, you will be able to choose the file you would like to create your course from, and then click "Open." You will need to drag and drop your file from the right-hand menu into the slide, and then resize the video to fill the frame.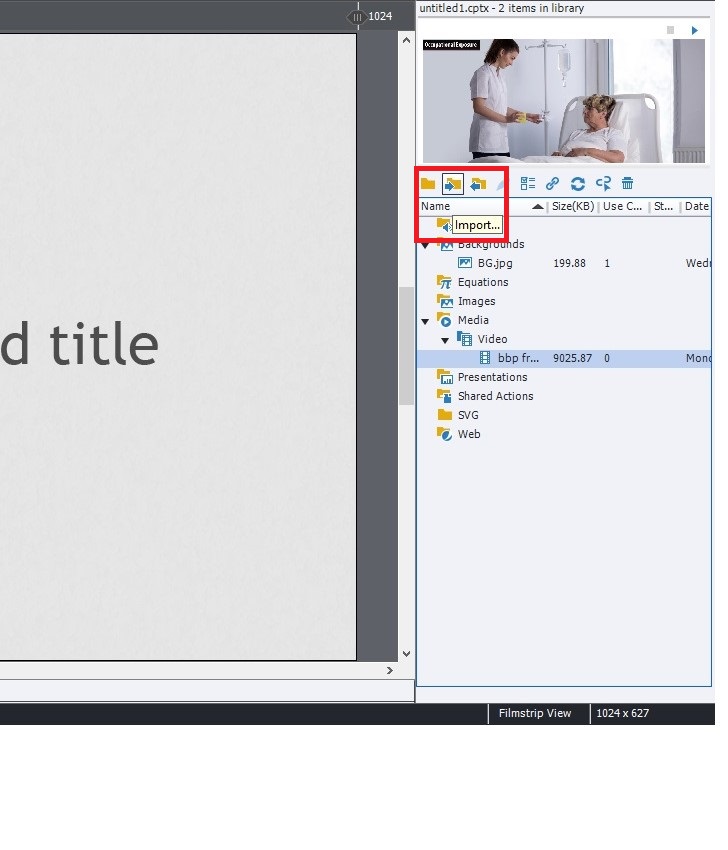 Please go to your toolbar and select "Quiz Preferences" under the subheading "Quiz." From there, go to "Reporting." There's a few things to check in this pop-up. First, check "Enable reporting for this project" and verify that the LMS says "Other Standard LMSs" with the standard being "SCORM 1.2." Next, under Status Representation, make sure "Incomplete -> Complete" is checked, and that "Slide Views and/or Quiz" is checked under Success/Completion Criteria. The slide views should be checked at 100%.
For courses without a quiz, uncheck "Quiz" and "Interaction Data." For courses with a quiz, check "Quiz" and uncheck "Interaction Data." When finished, click "OK."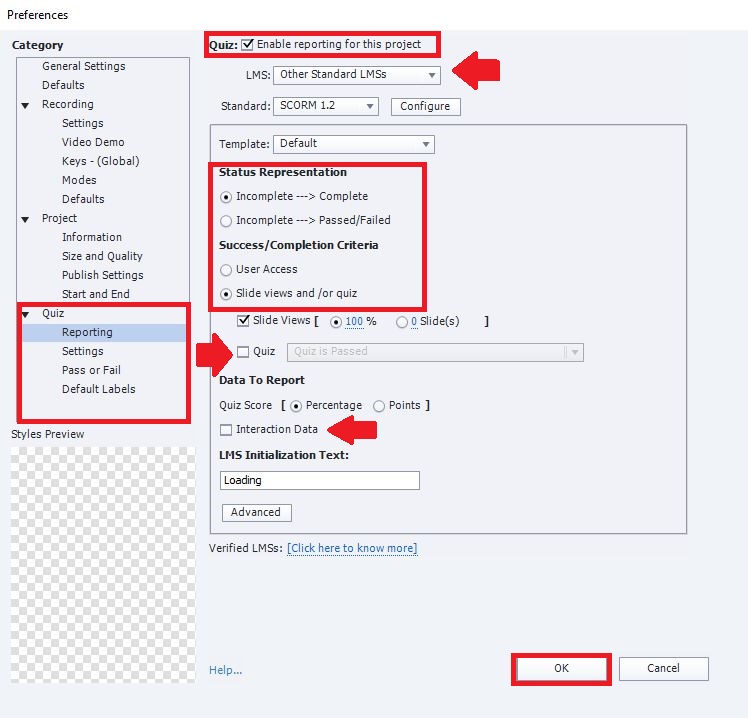 For a course without a quiz, this is all you need to enable to publish your course.
For a course with a pass/fail only quiz, please select "Pass or Fail" from the left-hand menu. Then, set points to pass to 100%. If failing, check "Infinite Attempts" and "Show Retake Button" to allow your learner to complete the quiz with a passed state. For a course with a scored quiz,  select the points to pass to whatever percentage you would determine as "Passing." If failing, enter the amount of attempts you would like the learner to be able to have to complete the course with a passing grade before failing completely.
Be sure to select "OK" to save your changes.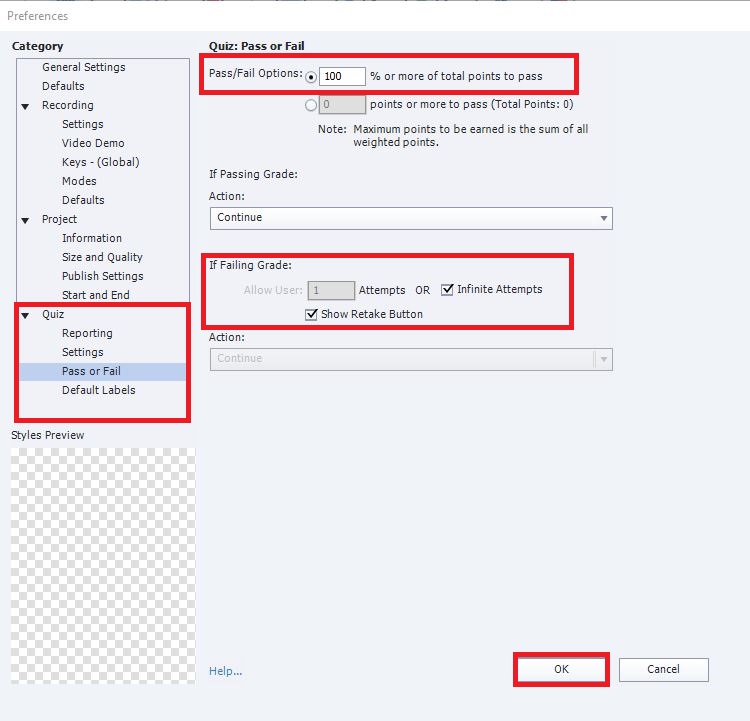 To assign quiz questions, return to the Quiz menu. Select Question Slide, and then add the specified type and quantity of slides. Click "OK" to add the question slides to your course.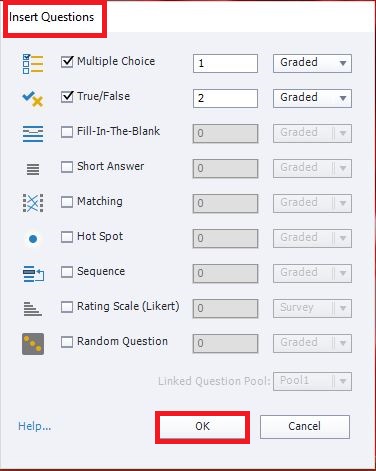 Once the slides have been added, you may beginning editing them. To change the default number of answers for the frame, click on the blue 2 in the Quiz menu on the right-hand side, and change it to the number of answers you would like for that quiz frame. Double click on the text in the frame to insert your question and answers. To set the right answer, select the bubble of the correct answer on the slide. The answer that is selected when the course is published will be the answer marked as "correct."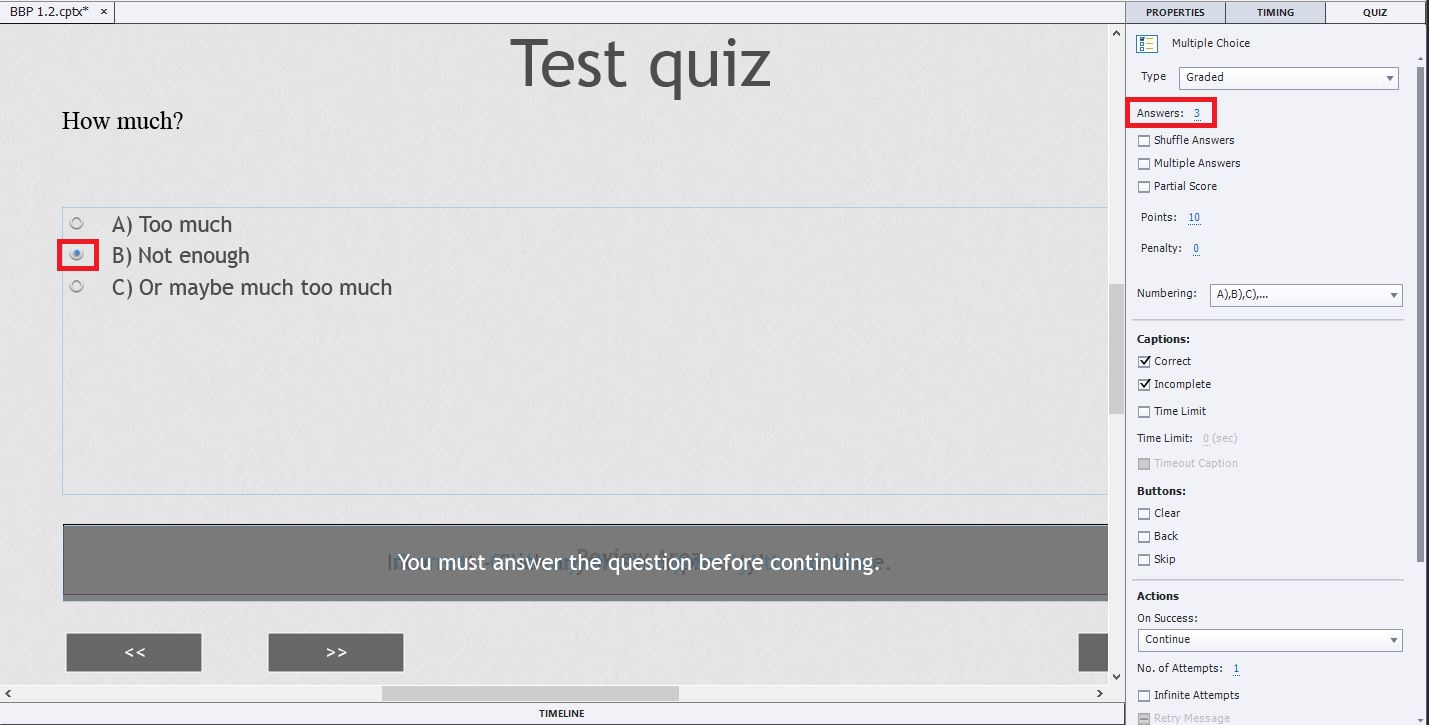 Before completing your course, we recommend previewing your course to ensure that everything is operating properly. You may do this by selecting the "Preview" option from the Home tab. To complete creation, select Publish from the menu, and then "Publish to My Computer." Here, you'll select Zip Files and confirm the HTML5 format. Then, check "Scalable HTML Content" before selecting to publish.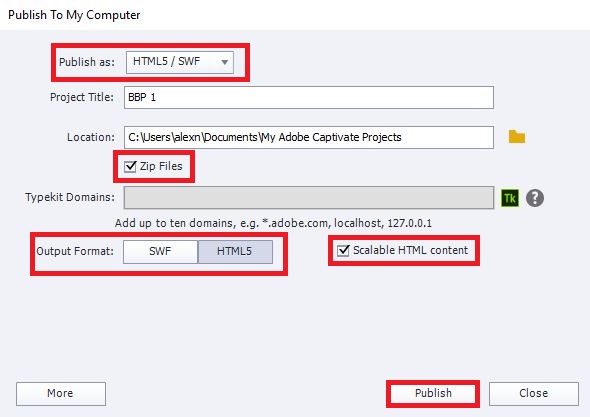 The .zip file this creates will be saved to the location you chose on your computer, and is ready to be uploaded into the SafetySkills LMS. For instructions on how to upload this course into your account, please click here.
If you have any questions or issues with creating content with Adobe Captivate, please contact Adobe Captivate support. If you have any questions regarding the SafetySkills LMS, please contact SafetySkills Help Desk at support@safetyskills.com