The SafetySkills LMS allows companies to create and upload custom content, but unfortunately cannot troubleshoot custom content that was created outside of our content team. SafetySkills does not partner with any authoring tools, but we have selected the most common authoring tools and outlined recommended settings for each. We cannot guarantee that these settings will work for your custom course, so we advise that you perform full testing to confirm the custom course is working as intended. We recommend testing proper launch in each browser that your users will access (including mobile devices), testing to ensure proper bookmarking (leaving and coming back to the same spot) and proper completion (the course completes when it should and with the expected values). Please see below for the recommended settings when using Storyline Articulate to create your custom content from a PowerPoint.
To create a custom course from a PowerPoint, begin by selecting "New Project" from the menu. Then, go to "File" to "Import," select "PowerPoint." You will need to select "Open" before selecting "Import" again to begin.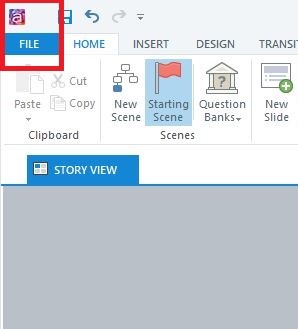 Right click on the "Untitled Scene" box in the middle of the screen and select "Delete."
In the PowerPoint listing, select one slide. Then, use Control + A for Windows, or Command + A for Mac, to select all slides. In the bottom of the right-hand menu, under Slide Properties, select "Slide Advances: By User." Under Player Features, select "Custom for Selected Slides" and uncheck "Menu."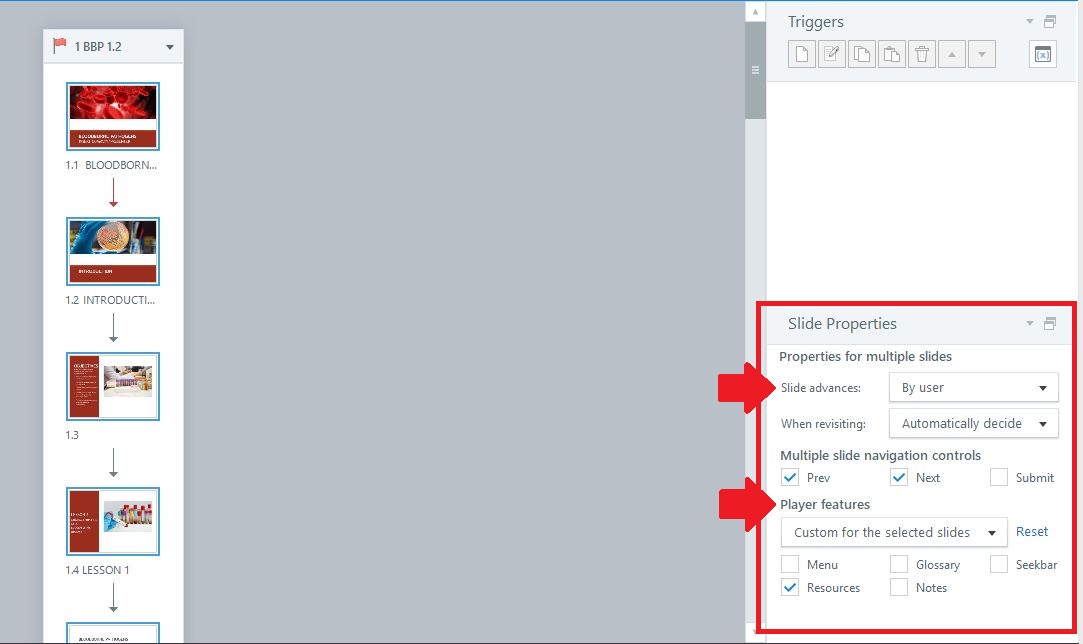 For a custom course without a quiz, this is all you need to enable.
For a custom course with quiz questions, please go to the Home tab and select "New Slide." Then, select "Quizzing" and "Graded" to choose the question format type. Then, you will be prompted to enter the quiz information. To select the correct answer for your question, check the box marked "Correct" next to the appropriate answer.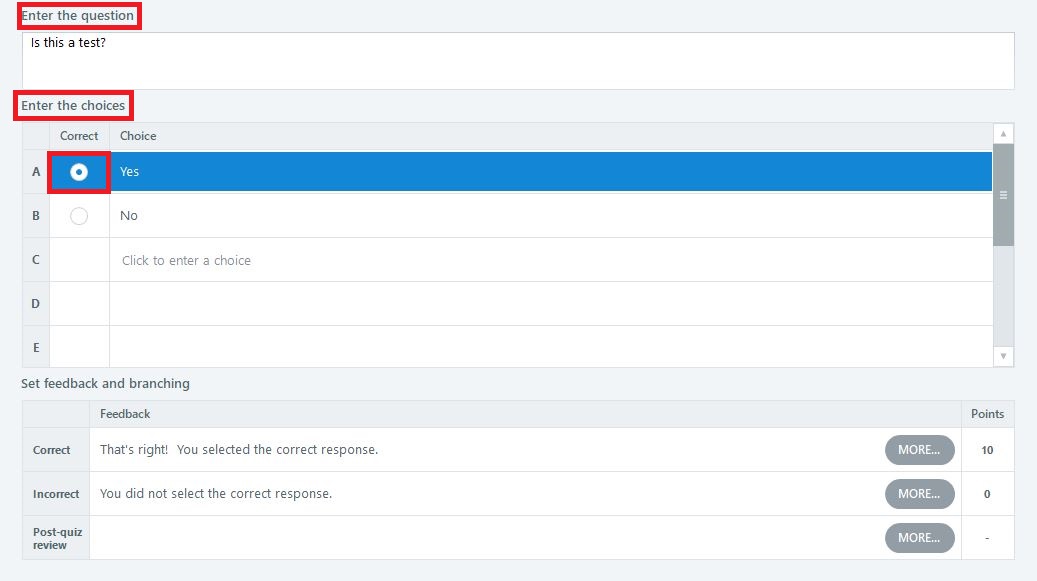 To add a results page, go to the Home tab and select "New Slide." Then, select "Quizzing" and "Results Slide." From there, please choose "Graded Result." For a pass/fail quiz, select the Passing Score to be 100%.  For a scored quiz, select the Passing Score as whatever percentage you determine to be passing. Then, click "OK" to save your changes.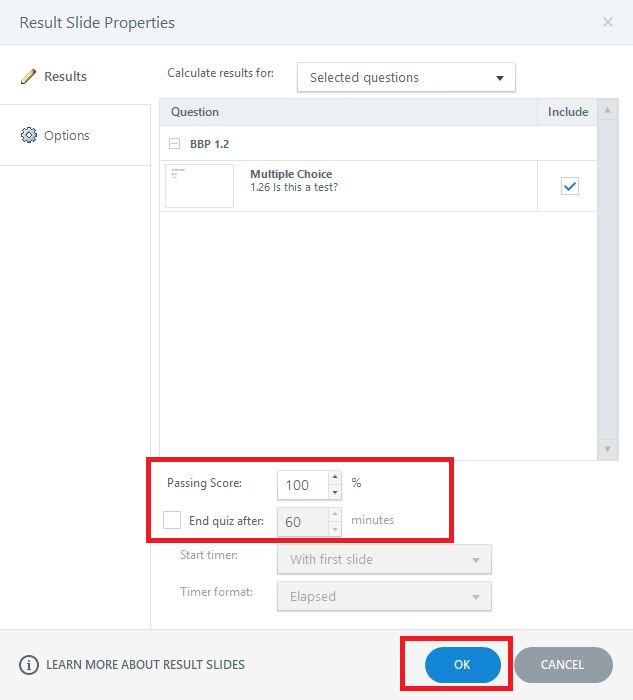 For both scored and pass/fail quizzes, return to the Options tab. Then, select the option to "Allow User to Retry Quiz." Then, click "OK."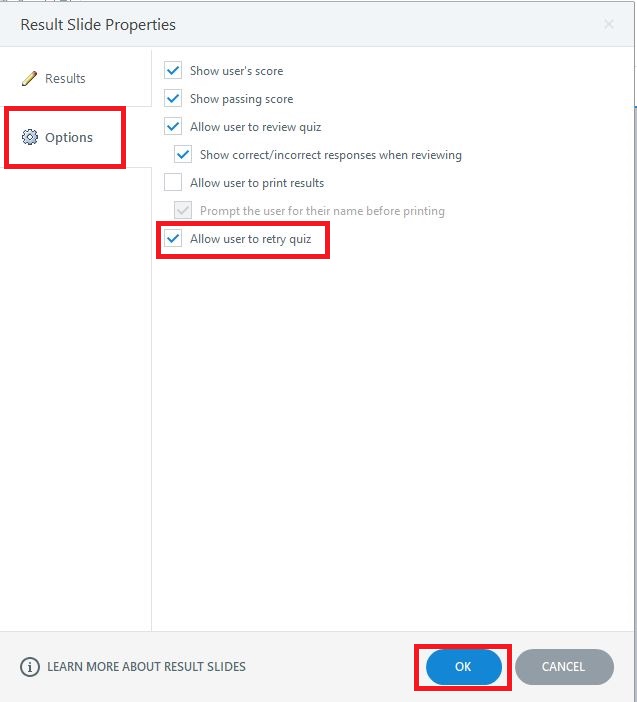 Before completing the course, we recommend previewing your course first. To do this, please select "Preview" from the Home toolbar.
To complete the course, select the "Publish" option from the Home tab. Then, select "LMS" and "Publish" again. This will open a prompt to select the location where these files will save to your computer.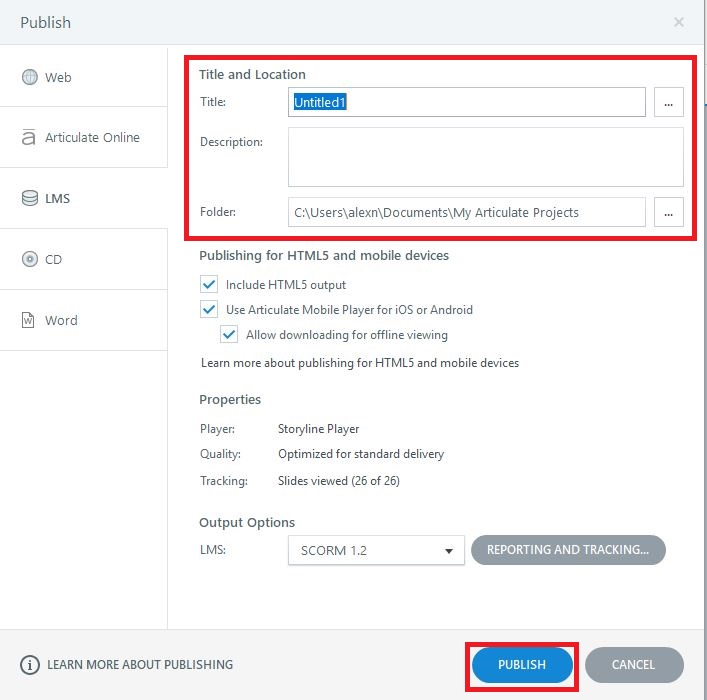 Once this process is finished writing the course, a pop-up will appear notifying you the course was published successfully. From this pop-up, please choose the "Zip" option to zip the course files. This is the required format to upload the course into the SafetySkills LMS.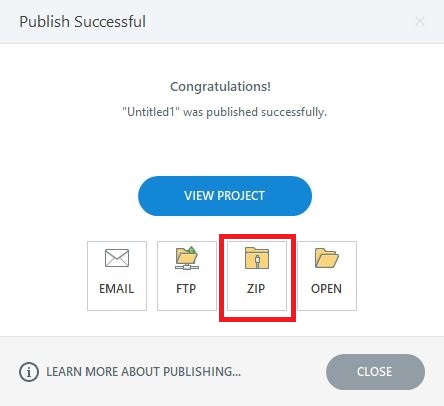 Once the course files have been zipped successfully, they are ready to be uploaded into your account. For instructions on how to upload this course into your account, please click here.
If you have any questions or issues with creating content with Storyline Articulate, please contact Storyline Articulate support. If you have any questions regarding the SafetySkills LMS, please contact SafetySkills Help Desk at support@safetyskills.com