Instead of entering each course into Automatic Assigning individually, Super Administrators and Owners can import an entire training matrix. This will allow the system to process your matrix at once and emailing you once it has been completed, saving you time!
To begin, click on the Configure tab and select "Automatic Assigning."

On the right side of the Automatic Assigning page, you will see a section for the Training Matrix. Here, click the "Download" button to download any current automatic assignment settings. If you are not currently using automatic assignments, this will download a blank template for you to utilize.

The template will look like this:

The Group Name will be the name of the group you wish to assign this course to. If you need assistance creating groups, please review our article here.
To retrieve the course name and course ID, please go to the Courses tab and click the blue name of the course you wish to assign.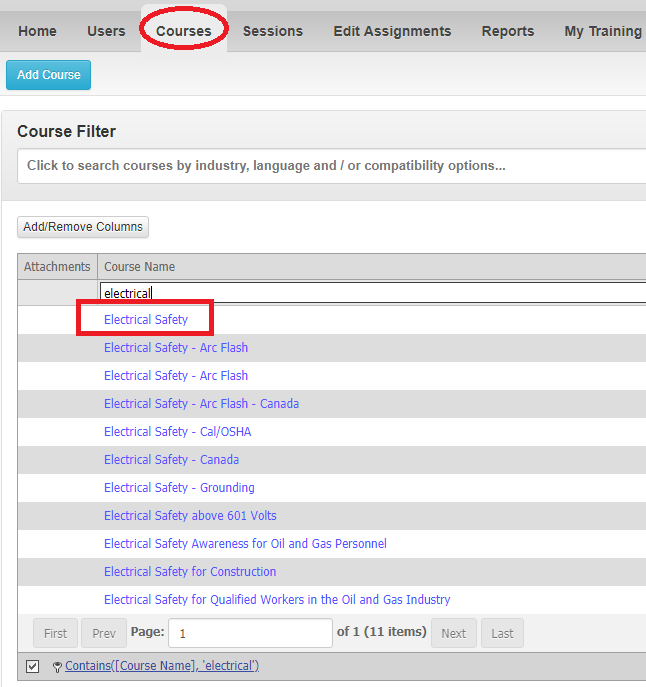 This will open a pop-up where you can retrieve the course ID number. The course ID number will display in the top portion of this pop-up, along with the course name.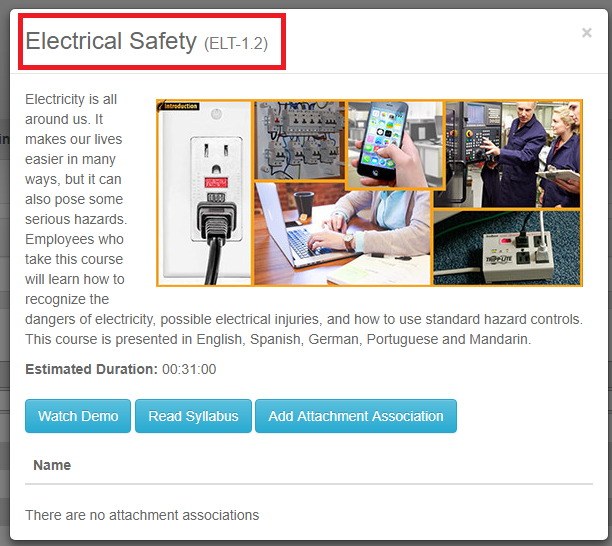 Recurring Interval: How often the learner needs to complete the course, in months. If this is a one-time assignment, like an orientation, select "Does Not Re-Assign." You do not need to put "months" after the number you select.
For example: If you select 24 months, a learner who completes the course in January 2019, will be due again in January 2021.
Assignment Duration: How long you want the assignment to be active until the due date, in months. You do not need to put "months" after the number you choose.
For example: If you assign a course to activate in July, and set an assignment duration of 3 months, the assignment will be due at the end of September.
Month Assigned: This is optional if you want to select a specific month you want the course assigned to your learners. You will need to fully write out the month; the system will not accept abbreviations.
For example: If you select July for a course, and a learner is added in March, the system will not assign that particular course until July (unless you also select "Assign Initially").
Compliance Level: This will allow you to select the level of compliance needed for specific titles in specific groups. If you select "Strict", the system will operate under the protocol that the assignment needs to be complete 12, 24 or 36 months from the date of last completion. This will ensure the due dates reflect from the learners previous completion to the day. This may back-date due dates if schedules change. If you select "Lenient", the system will work more off of a "once per calendar year" protocol and not back-date due dates, while still ensuring the learner does not go too far past their compliance date.
For example: Let's say "now" is December 21, 2019 and a learner had previously completed Basic First Aid on June 15, 2019. Let's say you also have Basic First Aid setup with a 12 month interval, 1 month duration and you changed the scheduled month from June to October. If you had the compliance level listed as "Strict", it would assign the course "now" with a due date of October 2019 (because October 2020 would be more than 12 months past the learners previous completion date of June 15, 2019). If you select "Lenient", the system will assign the course with an activation date of October 1, 2020 and a due date of October 31, 2020.
Assign Initially: This allows you to choose if you want the course to be assigned when they are initially put into the group or not. For assign initially, you will need to say "Yes;" if you do not want assign initially for that course, you will choose "No."
For example: If a learner is added to a group that has this feature turned on, they will be assigned this course immediately if they have never taken this course before. Once they complete the assignment, it will be re-assigned based on your selections for Recurring Interval, Month Assigned, Assignment Duration and Compliance Level. If they have completed this course before, they will not be assigned this course again, unless it is out of the compliance level as per selected above.
Once you have completed filling out the template, it should look like this:

Now, you may upload the training matrix into the system. To do so, please click the "Click here to upload" box beneath the Training Matrix header.

This will allow you to select the matrix you have completed. After selecting the file to upload, you are free to leave the Automatic Assigning page. The system will automatically process the matrix, and send you an email as soon as it has been completed. If there are any issues with the matrix  you created, the system will return an error message detailing what should be changed. Please make the appropriate changes before attempting to reupload your matrix.
If you have any questions or need assistance building groups, please contact SafetySkills customer care at support@safetyskills.com or submit a ticket to us by clicking the red "Support and Feedback" tab in the lower left-hand corner of your LMS.