Whether you need to supplement a course with a document, or simply store pertinent account documents within the LMS, Owners and Super Administrators have the ability to upload attachments into the LMS. Please note: Advanced Administrators are able to view the Attachments page and associate or remove attachments individually. Administrators are able to create and upload attachments from the Sessions tab only.
Start by clicking the "Configure" tab (it looks like two gears) on the right side of the screen, and then choose "Attachments" from the drop down.The table on this page will display any attachments you may currently have uploaded to your account.

There are two kinds of attachments you may choose to upload: an external link or a document file.
To upload an external link as an attachment, click the blue "Create Link" button on the right. A pop-up will appear prompting you to name the attachment, insert the link to external content, and choose whether or not the attachment is visible to learners on their "My Training" page.

To upload a document as an attachment, click the blue "Upload Files" button on the right. A pop-up will appear that will allow you to drag-and-drop files into the box outlined in a dashed line. Or, click in the box to browse your computer to choose file from your computer. You can also choose whether or not to allow learners to access this attachment from the training page.

Once you have successfully uploaded the attachment, it will populate in the table.
To edit the attachment's settings, click on the name of the attachment within the table. This will open a new page that shows you:
The group the attachment is associated with (if any)
If the attachment is populating on the learner's "My Training" page
The courses the attachment is associated with (if any)
The sessions the attachment is associated with (if any)
The individual users the attachment is associated with (if any)
On this page, you will also have the option to update the file or link path, if necessary. You can make any changes necessary and then click the green "Save" button on each edited section before clicking the blue "Save" button at the top.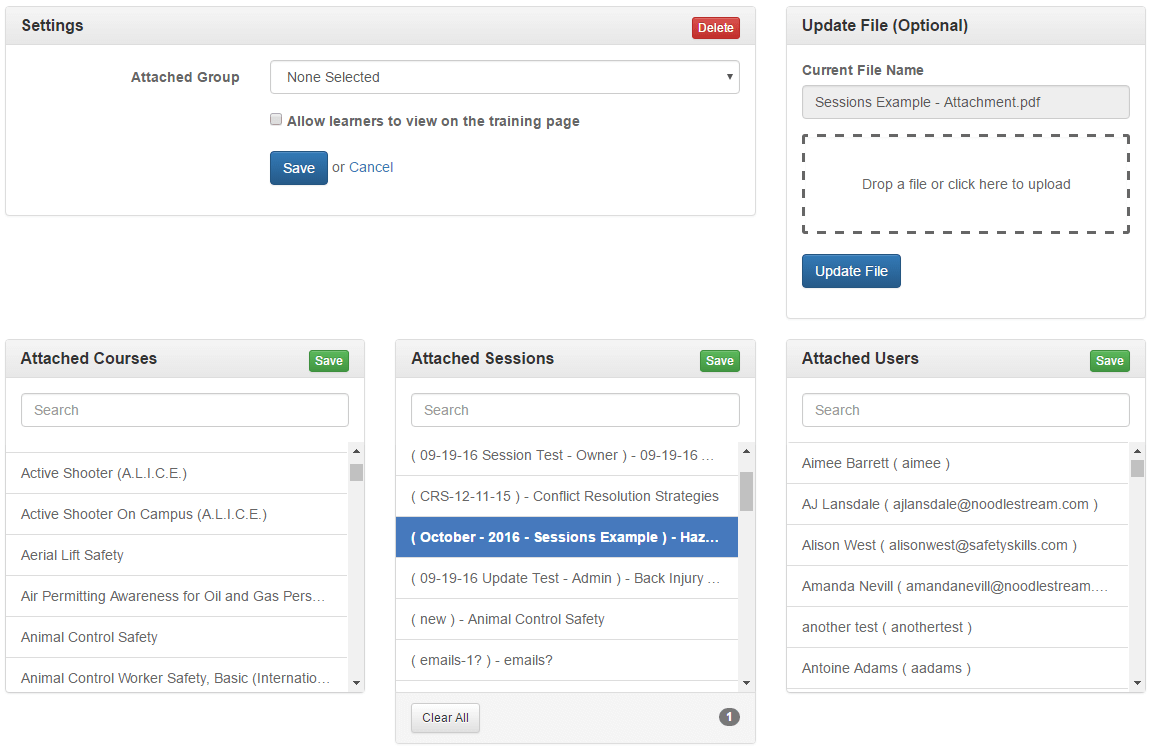 Now, you will be able to access your attachment within the LMS. If you associated it with any groups, assignments, or users, they will also have access to the attachment. You also have the ability to associate attachments individually, directly from the course, user, or sessions page. To learn more about individual associations, please click here. To learn how to create an assignment from an attachment, please review that article here.
For further assistance with attachments, please contact SafetySkills support by using the red "Support & Feedback" tab in the lower-left corner of the LMS, by emailing support@safetyskills.com, or by calling 405-463-6656, option 2.